GPR has been around since the early 1970's. At that time the equipment was very basic, large and difficult to use. Since then, great advances have been made producing lighter, more powerful and much more accurate equipment.
GPR is the best technology to non-destructively investigate the earth and concrete. Its wide range of uses include:
Utility detection and mapping
Concrete inspection and evaluation
Highway inspection
Archaeology
Rail bed inspection
Forensics/Law enforcement
Environmental assessments
Architectural facade inspection
Bridge inspection
Geology and geophysics
Airport inspection
Precision farming
Snow and ice thickness measuring
Mineral detection and mining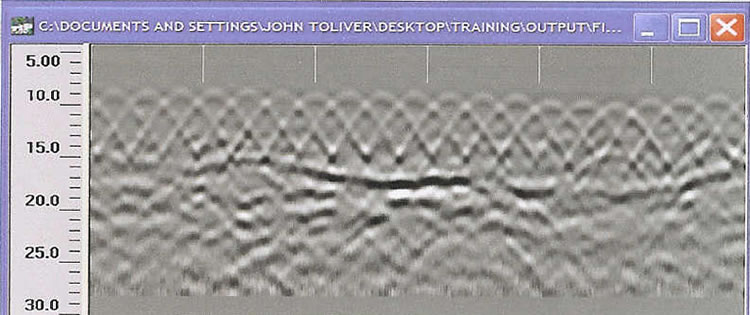 Unprocessed data showing wire mesh in a concrete floor and the bottom of the slab.
3D QuickDraw data of three pipes at various depths. Note the sloping angle of the pipe on the right.
Using the latest in ground penetrating radar technology we can quickly, safely and effectively locate buried obstructions in concrete structures prior to drilling, cutting or coring
We are able to locate rebar, tension cables, conduits, voids and measure slab thickness. This can be done in walls, floors, decks, slabs, tunnels, balconies and garages. Access is needed to only one side of the concrete and objects can accurately be located to a depth of 18 inches.
Ground Penetrating Radar systems are perfectly safe and can be used in all locations, near sensitive equipment and around people. All of this is done at a fraction of the cost of an x-ray.
3D GPR view of utility line.